Francisco Amighetti was born on June 1, 1907, in San Jose, Costa Rica. As his name suggests, his family was of Italian descent. Amighetti attended the main high school for boys in San Jose called the Liceo de Costa Rica. Here, his artistic talent became apparent, and his Art teachers encouraged him to enroll in the Academia de Bellas Artes. In this institute, which had as a director a famous Spanish painter called Tomas Povedano, he received drawing and painting lessons which perfected his technique. During these early years of artistic formation, Amighetti began to gain recognition through his cartoons that were published in the famous artistic magazine- "Repertorio Americano".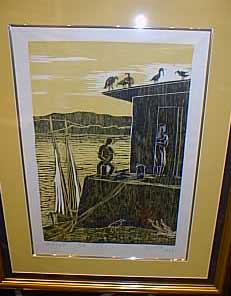 During the 1930's, Francisco Amighetti and other artists rebelled against the academic background which had contributed to their formation. Amighetti and artists like Zuniga, de la Cruz, Zeledon and Chacon all rejected traditional European schools and opted for more revolutionary ones, like Surrealism. This generation explored primitive elements and included them to their artwork. It was also during this time that these artists began producing xylographs and other types of engraved plates. The Costa Rican creators were influenced by the xylographs of artists such as Der Bucker (German) and Francisco Leal and Francisco Diaz de Leon (Mexican). In 1934 Amighetti and his colleagues published an album of xylographs that would later become a central work of Costa Rican art.
Apart from producing xylographs, Francisco Amighetti also mastered other techniques, such as drawing, oil and water painting and others. His works embrace different styles, enabling him to produce Primitivist xylographs and Impressionist landscape paintings, for example.
Amighetti, unlike Paco Zuniga, chose to stay in Costa Rica, even though the artistic opportunities were scarce. However, Amighetti soon began travelling to different countries, in order to show his work, which had gained international recognition by the 1950's. His work has been exhibited in the main cities of Europe, America and Asia, and is currently considered to be one of the most highly-priced Costa Rican artwork.
At 92 years of age, Don Francisco Amighetti is one of the most prolific artists in Costa Rican history. His seventy years of creation include more than 500 works, which, as I mentioned previously, range from Surrealist paintings to austere and primitive xylographs. In 1992, after having dedicated 24 years to the production of engravings, Amighetti decided to return to painting. It seems that fortunately for Costa Rica (and the whole world) Francisco Amighetti is a never-ending source of creation, that insists on reinventing himself and renewing his work constantly. Amighetti's relentless energy promises the world several more masterpieces.
This information comes from:
http://www.infocostarica.com/people/amighetti.html